BRICS Astronomy Working Group and Workshop Multi-messenger Astronomy (Rio)
BRICS Astronomy Working Group and Workshop Multi-messenger Astronomy will be held from September 29 to October 2, 2019 in Rio de Janeiro, Brasil.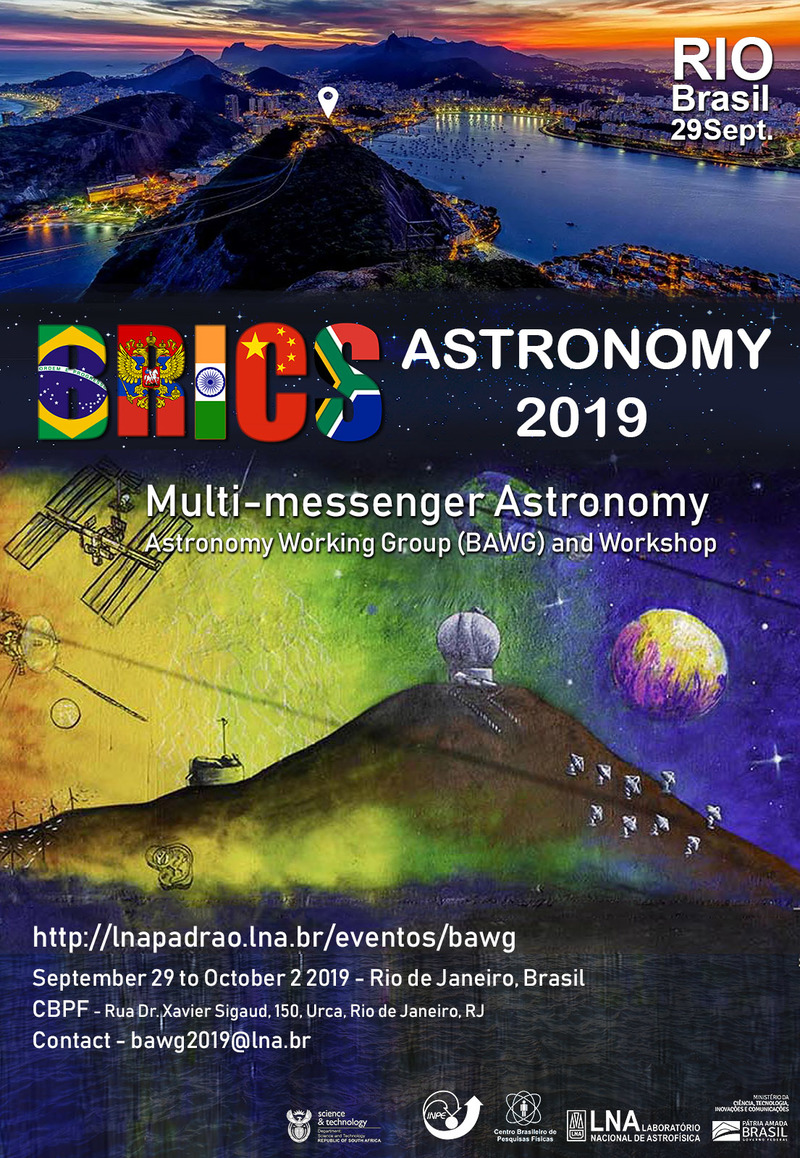 Astronomy was identified as one of the priority science fields for collaboration in the framework of the BRICS agreement. Since 2015 the BRICS Astronomy Working Group is working on possible actions to foster the integration and collaboration between the BRICS countries astronomy communities. For more information on BAWG actions and resolutions see the site: https://www.bricsastronomy.org/ . The DST in South Africa serve as the secretariat for the Working Group. This is the 5th meeting and 4th science workshop promoted by the BAWG.
Multi-messenger astronomy -- Astronomer's newfound ability to see the same cosmic events in light, particles and gravitational waves -- gives us a fuller picture of some of the Universe's most mysterious phenomena, and is today at the forefront of research. It is expected to occupy an ever more central stage in observational astrophysics in the coming decades. Multi-messenger astronomy represents a natural focus area for multi-lateral collaboration amongst the BRICS countries, as the search and study of the electromagnetic counterparts of gravitational waves and neutrino events requires the coordinated cooperation of a large number of facilities across the electromagnetic spectrum, in a worldwide geographical distribution. One of the aims of this workshop is to discuss and set out an strategy to promote the integration and collaboration of the BRICS countries to create a BRICS Transients and Multi-messenger Network, bringing together the scientific communities and the available observational and data infra-structures to put the BRICS countries at the frontier of this research field. Such a coordinated network could have impact in a number of other fields, and science cases, beyond multi-messengers, as consequence. An open round table dedicated to discuss the topic will take place at the end of the Scientific Workshop on Tuesday.
"The combination of electromagnetic light with gravitational waves of neutrinos has come of age. The detection of gravitational waves from a merging neutron star binary, and the identification of a flaring blazer in coincident with a high energy neutrino mark the beginning of an era where the detections of sources beyond the electromagnetic spectrum will become increasingly common. Facilities around the world need to join efforts to identify the counterparts of sources initially located by either gravitational wave or neutrino observatories, and can made pivotal contributions to these first steps into multi-messenger astronomy." (ESO-ESA Joint Workshop).
BAWG Secretariat
Takalani Nemaungani - DST, South Africa - Takalani.Nemaungani@dst.gov.za
Gaboile Mabeba – DST, South Africa - Gaboile.Mabeba@dst.gov.za
Charles Takalani – DST, South Africa - Charles.Takalani@dst.gov.za
Scientific Organizing Committee
Ulisses Barres – CBPF, Brasil
Carlos Alexandre Wuensche – INPE, Brasil
David Buckley - SAAO, South Africa
Local Organizing Committee
Bruno Castilho – LNA, Brasil
Ulisses Barres – CBPF, Brasil
Giuliana Capistrano – LNA, Brasil
Carlos Alexandre Wuensche – INPE, Brasil
Contact
bawg2019@lna.br
55-35-36298104
Source: http://lnapadrao.lna.br/eventos/brics-astronomy-working-group-2019