International youth webinar "The Scenario of COVID-19 across the Globe: BRICS and beyond"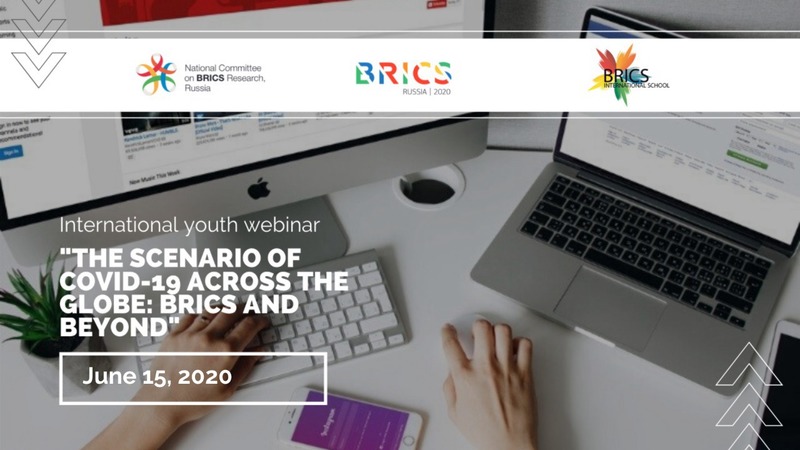 Organizer: National Committee on BRICS Research, BRICS Russia Expert Council, BRICS International School
Date: May 15, 2020
Time:
9.30 am (Brasilia)
3.30 pm (Moscow)
6.00 pm (New Delhi)
8.30 pm (Beijing)
2.30 pm (Pretoria)
Agenda:
Today, when COVID-19 swept the world, the increased involvement of civil society is vital to address the crisis. As representatives of major emerging countries with global influence, BRICS need to act together in solidarity and cooperate in the interest of the well-being of the humankind. Young people from BRICS countries can and should become the change-makers bringing new ideas and innovation.
This webinar is aimed to have young experts from all over the world presenting the overall impacts of the COVID-19 pandemic in their countries, by answering the following questions:
What are the social, economic and political impacts of the COVID-19 pandemic in your country?
What is the role for BRICS in the changing reality?
What can the youth do to help?
Registration:
Young diplomats, practitioners, scientists, journalists and students from Brazil, Russia, India, China, South Africa, the CIS countries, Europe and Asia aged 18-35 are invited to join the webinar.
Deadline for registration - June 5. To take part in the webinar, please fill in the registration form: https://forms.gle/3kiNHwArSuBkPMNM8
The webinar is organized on the ZOOM Platform.
Contact information:
If you have any queries please do not hesitate to contact us by e-mail info@nkibrics.ru