Cultural diplomacy: how to unite BRICS countries
On August 27, 2020 Russian National Committee on BRICS Research and BRICS Russia Expert Council held the online round table, titled "Cultural diplomacy: how to unite BRICS countries".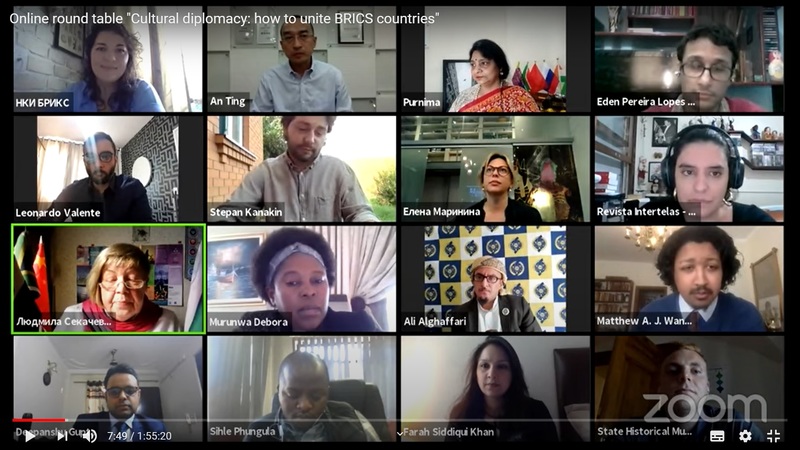 The BRICS countries recognize cooperation in culture, art and humanitarian sphere as priority area of interaction. Representatives of public organizations and institutions, foundations, socially oriented businesses of all BRICS counties present their ideas how to enhance people-to-people exchanges in order to deepen mutual understandings.
Based on the provided recommendations there was developed a draft zero of the communique that implies recommendations in the following areas:
Institutionalization of cultural network
Involving youth in the culture exchange of BRICS countries
Development of cultural exchange through culture and art
Protection of cultural heritage as a basis for international cooperation
The event was attended by distinguished experts, including Victoria Panova, Managing Director of the National Committee on BRICS Research (Russia); Scientific Supervisor of the BRICS Russia Expert Council, Vice-President for International Affairs, Far Eastern Federal University, Elena Marinina, Deputy CEO of Roscongress Foundation, Director of Social platform of Roscongress Foundation – Innosocium Foundation (co-chair, Ludmila Sekacheva, president regional public organization "BRICS. The World of Traditions" (co-chair), Jane Mufamadi, Chief Executive Officer, Pretoria, South Africa, Memorial Museum Complex «Freedom Park» (co-chair), Leonardo Valente, Director of the Institute of international relations and defense of the Federal University of Rio de Janeiro, member of the BRICS Network University, An Ting, Vice President of Beijing NGO Network for International Exchanges, Purnima Anand, President, BRICS International Forum, Honorary President of the International Federation of Indian-Russian Youth Clubs in New Delhi.
Video is available by following the link: https://www.youtube.com/watch?v=fHFKurgxLD4
National Committee on BRICS Research is a non-profit academic think tank, created in 2011. The primary goal of the Committee is to promote Russia's position and its expert assessments internationally, and to coordinate the activities of leading research organizations and experts regarding BRICS. With Russia's Chairmanship of BRICS in 2015 and 2020, the Committee's work has acquired special importance. The National Committee on BRICS Research is an integral part of all the main activities being conducted by the Russian Federation in the framework of its BRICS Chairmanship.
BRICS Russia Expert Council was created in 2019 to carry out scientific research, expert advisory and analytical activities within the framework of preparing and ensuring the Chairmanship of the Russian Federation in the BRICS association with the participation of the National Committee on BRICS Research on the basis of the structural subdivision of the Russian Academy of National Economy and Public Service under the President of the Russian Federation. The main purpose of the BRICS Expert Council is to organize and carry out research, create expert platforms, work out meaningful issues of ensuring the activity of Russia in the BRICS association, including within the framework of its Chairmanship in 2020, and study the strategies of developing countries and new international formats.