Symposium "Russia's BRICS Chairmanship in 2020 and forging synergistic paths" (Pretoria)
The Institute for Global Dialogue, University of South Africa and the Embassy of the Russian Federation to South Africa will host a Symposium titled "Russia's BRICS Chairmanship in 2020 and forging synergistic paths" on March 4th 2020 in Pretoria, SA.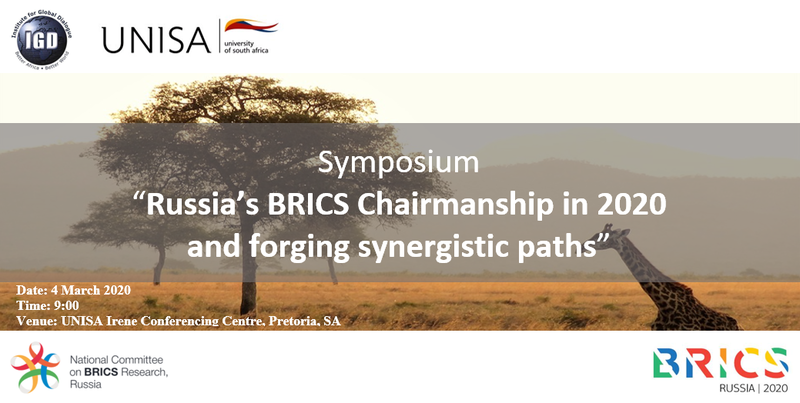 Over the last decade, the BRICS has become a striking geopolitical bloc that has drawn the attention of all actors across the world. On the heels of the 2019 chairmanship hosted by Brazil, Russia is set to steer the partnership in 2020, under the theme "BRICS Partnership for Global Stability, Shared Security and Innovative Growth". The event will discuss the BRICS agenda and working methods in Russia's key priorities, namely:
1) expanding foreign policy coordination among the BRICS on existing multilateral platforms,
2) addressing issues of transnational security and crime,
3) updating the Strategy for BRICS Partnership in Trade and Investment for the next five years,
4) making the BRICS partnership more accessible to the people,
5) enhancing existing BRICS organisations and financial mechanisms, and
6) encouraging energy research and continues academic partnerships.
Academics will be engaged on how interest areas in energy, education, economies, and institutions can be synergized in 2020 in taking the BRICS partnership forward.
Russian delegation:
Mr Mikhail Malkov, Counsellor, BRICS Office, Foreign Policy Planning Department, MFA of Russia
Mr Vladimir Poluektov, Third Secretary, BRICS Office, Foreign Policy Planning Department, MFA of Russia
Prof Victoria Panova, Scientific Supervisor of the BRICS Russia Expert Council
Date: 4 March 2020
Time: 9:00 for 9:30
Venue: UNISA Irene Conferencing Centre, Pretoria, SA
RSVP: Click here
Source: IGD